Hey guys! TGIF! TGIF! I have had a really rough week that all started last weekend so I am really glad this week is finally over. I don't even have enough time today to do a proper Friday check-in with you guys, but I did still manage to put together the Finisher for you. So I will update you on life once everything settles down and I am back on Monday. But before I begin, here is my second link-up to FTSF (Finish The Sentence Friday)! FTSF is that you are given a sentence each week and you finish it however you want, long or short. This week's sentence was, "I once saw the biggest..."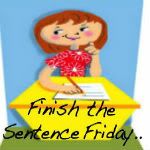 I once saw the biggest idiot! And guess where I saw her...in the mirror. I totally injured myself (which never happens!) last Sunday night and it was the stupiest thing...ever! That was the last straw for a really horrible weekend and the start of a horrible week. But like I said, I will tell you more on Monday...and fingers crossed things will be a bit better 🙂
SS Posts from the week:
Monday: Power Monday #28 Crazy 100s
Tuesday: "Secret Ingredient" Carrot Cake Waffles
Wednesday: Smokey Butternut Squash and Carrot Soup
Thursday: What's In My Gluten-Free Whole Foods Pantry?
Blog Posts I loved this week:
+ 10 Awesome Life Changes That Have Nothing To Do With Losing Weight
I love these; especially numbers 1, 3, 6, and 10!
+ Sometimes You Have To Fall And It Will Hurt
Yoga is such a great analogy for everything in life 😉
+ The Walls Come Crumbling Down
Yoga helps us to be real and find and find clarity <3
What yoga can teach us.
There are some things you should just not give a damn about!
No matter what, you will always still be you.
+ When Healthy Becomes Unhealthy
Sometimes all we need is to let go and loosen up a bit.
+ Not Enough Hours In Any Day
Our energy definitely needs to be sent on the important things.
+ When Pinterest Pisses Me Off
There are goods things about Pinterest but there are also a lot of bad.
+ Removing The Perfect Life Perception
No one has a perfect life so why do we try to always portray that?
+ Yes, Women Can Get Too Bulky
It is all about how you define it. What may be to some, may not be to others.
Your are enough as you are. You are a woman and you are beautiful.
+ Tips For Packing A Healthy And Satisfying Vegan Lunchbox
Totally doable! Great Tips!
Favorite Pins:
(Follow me on Pinterest – RebeccaGF666)
Faux Vegan Starbucks Chocolate Cinnamon Loaf. Wow, this looks so good! And it is sugar-free 🙂
Sorghum Risotto with Cauliflower, Parsnip, and Jalapeno Pesto. I've never actually cooked with whole grain sorghum since it is really hard to find, but I want to try this ASAP!
DIY Light Box. This is still a goal I need to accomplish! Thanks Sam 🙂
Morning Glory Breakfast Oatmeal. O yes! A very glorious morning at that 😉
Plein Air Shirtdress. So pretty for the Summer! I am in love!
Ginger Beet Smoothie. I am so in love with raw beets right now!
Deep Neck White Printed Blouse. Beautiful top! Relaxed, but stylish.
A few things I loved about my week or am grateful for:
+ 3 day weekend! Thank god! I have so much I need to get done for next week. I have mid-terms too so this will give me some time to study!
+ A bunch of new blog opportunities came my way this week and I am so grateful for all of them!
+ My Vitacost order came this week and I am finally now all stocked up on my essentials...and some fun new items!
So Tell Me:
Do you like raw beets? So good is dinner bowls and salads! And I am so trying them in a smoothie this weekend 😉

What are you up to this weekend?
Answer the FTSF question! "I once saw the biggest..."