The weeks are so slow when you have a 5-day weekend. I am not complaining, but really every time I get off from school, the week just feels endless. Monday was a crazy blizzard (snow-day), Tuesday was a delayed opening due to the snow (I had a doctors appointment so I just didn't go in due to the timing), Wednesday it iced and the roads were crap (snow-day), Thursday was a delayed opening due to refreezing and well, today. I know I sound pretty crazy. But I am pretty crazy stupid. Ready for the heel update? Well I went to the orthopedist on Tuesday and they started me out getting my foot x-rayed. Then the doctor came in for about 5 minutes and said there was nothing broken or fractured. Okay...sigh of relief. Then she said Planter Fasciitis. I almost passed out right there. Isn't that the horrible forever-lasting foot injury runners get! All I did was jump and land (hard) on a kitchen floor. I can't have this! It never seems like anyone ever fully heals...I am terrified. The pain is mostly in my heel when I walk and when I press the outside of my heel right below the bone that sticks out. If this really Planter Fasciitis? If you have dealt with this please let me know your experience with it! I am hoping that it just needs ample time. I will continue to ice and stretch it, but the stretching does nothing. No muscle or tendon in my body is tight. I am probably one of the most stretchy people in the world. I stretch everything everyday.....ugh! And I pride myself on my strong calves, as noted with this workout. I know that since I just keep using my foot and never let it rest it will just take even longer then it normally does to heal. I hear it can take months...years...
Enough of that, let's move on. Here is my fifth link-up to FTSF (Finish The Sentence Friday)! FTSF is that you are given a sentence each week and you finish it however you want, long or short. This week's sentence was, "My best dream ever was..."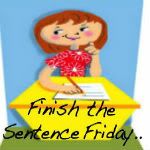 My best dream ever was...I can't remember a specific dream, but I can tell you I have some crazy vivid detailed dreams. About half are good and interesting, while the other half are crazy and scary. Sometimes I wake-up crying. I remember my dreams every night. Usually I wake-up once during the night and thus remember it, or if I haven't dreamed yet, when I fall back asleep I will have my dream then. Dreams are so weird, but terribly intriguing. I have had dreams in the same places and always with people I know. But I have never had one of those stereotypical falling or being chased dreams. If I actually told you some of the dreams I've had, they would probably cause you to have nightmare,s haha!
SS Posts from the week:
Monday: Power Monday #31 Tone Those Winter Arms
Tuesday: 39 Questions
Wednesday: Pistachio Encrusted Coconut Lime Chicken
Thursday: Apple Cinnamon Granola
Blog Posts I loved this week:
Digestion is a complicated thing and takes awhile to figure out what is good or pisses off your body.
+ How Eating More And Moving Less Helped Me Lose Weight And Transform My Life
Taking hold and finding your healthy.
+ Why Stretch Marks Aren't As Bad As You Think
Simply beautiful! <3
+ Bolder Blogging: Embrace Your Space
What blogging is truly about 🙂
+ Questions About Modesty And Fitness
Interesting read. Fitness clothes, showing off your body, what do you think?
+ Food Babe's Subway Petition! Sign It and spread the word! We need more!
I don't believe Subway's statement. We need more support to really put the pressure on them! Food should be made with real...FOOD!
+ Let Go Of The Ego & Go Into Child's Pose
Great reminder to give yourself a break! Sometimes it is the hardest thing, but also the best.
+ Olympic Events: The Bizarre & Discontinued Edition
Haha, this is awesome! Ski Ballet?! That is crazy...and dangerous?
+ Authentic Assessment: Are You Grading Yourself Fairly?
They do it in school, but you shouldn't be grading your life on a standardized version.
+ Should Celebrities Endorse Junk Food?
If they don't eat it or even touch the stuff, they shouldn't be. Just like here in the blog world. But it is always about money and won't be stopping.
+ Is Soy Dangerous To Your Health While Eating Gluten-Free?
This is an old post, but soy is the devil so I had to share 😉
+ Thoughts On Finding My Intuitive Eater
Beautiful progress and success for Heather <3
+ Healing My Digestion: Part 2 (Here is Part 1)
Great insights! Plus I still need to give you all an update on me, but I keep forgetting, haha.
+ Food Photography Tips From A Newbie Food Photographer
I think the 3 biggest things are: Lighting, Patience, and Practice!
Favorite Pins:
(Follow me on Pinterest – RebeccaGF666)
California Quinoa Bowl. A loaded bowl of goodness...quinoa, veggies, bean puree, sprouts, o my!
Kale & Cabbage Pad Thai Salad. Crunchy, healthy, peanutty, veggie-filled goodness!
The Hummus Waffle. That pretty much says it all, haha! Savory breakfast?
Sweet Heat Cashew Chicken & Quinoa. This is perfect for my never-ending cashew and Asian cravings!
A few things I loved about my week or am grateful for:
+ I won a a few giveaways this week and have some products coming for review! Fun! 🙂
+ Having this college stuff start come together 😉
+ My brother and I once heard this really funny song on CMT on a Sunday when we were really young. My dad always used to have it on in the mornings. For years we could never find the name or the video again and we have been searching ever since. Well in the last 2 years my brother has become a country music fan and last night he was just browsing music on YouTube and then he sent me a message saying he found the song! It basically made my month year. I couldn't believe it! The video is so dramatic (horrible funny acting), but it brings back such good memories! O, the good old days <3
So Tell Me:
Have you ever dealt with Planter Fasciitis? Please tell me the rest of my life isn't ruined! :/
Tell me about your dreams!?
What is on the weekend plan? I have another college interview tomorrow! I hope the weather cooperates and we don't have to reschedule, but they are saying more snow this weekend..ugh! Besides that I actually have some homework to do, but I plan on balancing that with finishing the last 80 pages of my book (finally!) and trying my hand at making some raw almond butter and a new quinoa flakes recipe 🙂
Have a lovely weekend lovelies! Stay strong 🙂 XOXO