It has finally dawned on my this week that I am really about to graduate. I have one more week of school, then after that we have finals for three days + last 1/2 day, then graduation day. We have to go in like normal on the 13th so we can practice, but we go home early so we can get ready for that night. O boy, life is about to get real. I should probably savor these last few days of high school, but I won't. I just try to float through each day, trying not to totally fall asleep as we watch movies in basically half of my classes. At least I got through that Latin recitation on Tuesday 😉 I butchered the meter, but came out okay!
I finally met with my personal trainer for the initial evaluation on Wednesday. He just took measurements, base line fitness, tons of different heart rates (endurance while using the bike), grip strength, BMI, etc. I came out with amazing physical fitness, endurance, and strength (made me feel pretty good!). We discussed what I was looking to get out of training and we will meet again in a few weeks to actually start developing a program. So when that happens, I will let you all know about what is going on in the fitness front!
Here is my 19th link-up to FTSF (Finish The Sentence Friday)! FTSF is that you are given a sentence each week and you finish it however you want, long or short. This week's sentence was, "My favorite way to exercise is…"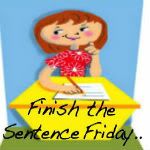 My favorite way to exercise is yoga. I think that was a no brainer 😉 It really is the perfect form of fitness. If you want something light, you can do a more relaxed practice. If you want something to make you sweat and get strong, you can choose to do a powerful flow (which is what I always opt. for!). Doing yoga just makes me feel so good and so beautiful! I have always loved moving my body in such a way which I think stems from my 13 years of dance. In yoga I am able to keep that flow, flexibility, but also include my strength, balance, and power. I love that it is an exer-expanding practice. There is always room for improvement, may that be going deeper, a harder variation, tons of different asanas, and even challenging fears. Really, it is just simply perfect to me. A beautiful art of the body.
SS Posts from the week:
Monday: Power Monday #46 Why I'm Grateful For My Celiac Disease
Tuesday: How Yoga And Fear Work Together
Wednesday: More Than Carrot Cake Granola
Thursday: How To: Pancakes For One
Blog Posts and Links I loved this week:
Life, Mind, Body, Spirit:
+ Is Crying A Weakness Or A Strength?
I cry at pretty much the flick of a finger. I might be a sensitive person, but I have learned how to be strong at times. Crying is definitely not a sign of weakness.
Things I should remember going in to freshman year from a rising senior.
+ Shift Away From Anger And Into Love
How to change the way you react.
+ Ease Into The Discomfort And Prepare To Grow
A beautiful yoga analogy.
+ 29 Life Lessons You Should Learn By 30
These are truths and I have already learned a lot of them!
+ 5 Easy Ways To Feel Totally Transformed (Even If Your Not There Yet)
Some simple things to do that will clear out the old and allow for the new!
+ 20 Signs It's Time To Let Go And Move On
You can't keep living in the past, there is so much more out there for you!
Embrace your muscular athlete legs!
+ Embracing The Role You Never Wanted
Have you ever had to step into the shoes/role that you could have never pictured yourself doing before?
+ You're Allowed To Love Your Body
You are! Don't let anyone or anything (even yourself) stop you from loving you!
Fitness:
Learn to take them and not an "active" rest day, a real day of complete rest.
Very interesting read from a hardcore athlete.
+ How To Not Freak The F Out Before Your Race
Some tips on staying calm, cool, and collected 😉
Food:
+ 17 Cooking Hacks Every Vegan Should Know
Vegan cooking is not a mystery my friends 😉
+ Sorry, But There's No Such Things As A "Healthy" Sugar
All sugar is sugar. Agave, Maple, Cane. Unless you use Stevia, sugar is sugar and it is no good.
+ How To Pick The Best Produce (Fruits & Vegetables)
Great info on what to look for!
+ The Top 10 Best All-Natural Food Bars That Are Really All Natural
The "better-for-you" processed food!
Health:
This title is not what you think. A must read! This girl knows my exact thoughts.
+ Depression And Anxiety: What It Looks Like & How I'm Learning To Cope
May is not only Celiac Awareness Month, but it is also Mental Health Awareness Month!
+ How To Cure Plantar Fasciitis
I can say that mine has pretty much healed! Hallelujah! I still get twinges of pain and my walking still feels funny at times, but for the most part I am 90% better!
+ A Day In The Life For Someone With Crohn's Disease Or Colitis
Bringing awareness this month to other important gastrointestinal diseases.
+ Guest RD: Prenatal Nutrition
Doesn't pertain to me what-so-ever, but this post is packed with info!
+ How To Make Friends With Food
Create a better healthier relationship.
+ Can Drinking Diet Soda Really Help You Lose Weight?
I just can't even handle this new "study". Please just stop the maddness! Soda is toxic and so is Diet (even more so!). Simple just don't drink it…please.
+ 21 Ways To Stay Healthy When You Sit At A Desk All Day
Don't let your job get in the way of your health!
Blogging & Social Media:
+ Dear Internet: It's Not You, It's Me
A break up letter with the internet. I think I will be more cautious with my use this summer to. I need to savor my last few weeks at home.
How to heal the blogging blues.
+ Insta-cleansing & Insta-fasting
Could you benefit from on Instagram cleanse?
+ 30 Days Of Writing Prompts For June
I love the SITS Girls monthly prompt ideas!
+ How I Got Started Freelance Writing
Check out how Caitlin got her start in freelancing and her tips if you want to start!
Favorite Pins:
(Follow me on Pinterest – RebeccaGF666)
Quinoa and Chia Seed Toasted Granola Bars. These look fantastic!
Cinnamon Granola. So simple and perfect! I just found Amanda's blog last weekend and all of her recipes are so incredibly perfect 😉 This girl could be my blend!
Banana Blueberry English Muffin Bread. Why yes, I don't mind if I do! Reminiscent of my Buckwheat English Muffin Buns!
Mediterranean Millet Salad Wraps. I do love a good wrap!
Light Pink Jumpsuit. Still obsessed with the jumpsuits!
No Bake Cranberry Almond Chia Snack Bars. These remind me of the Vega Snack bars…but 10000x better 😉
Spring Chili & Quinoa Bowls with Seeded Buckwheat Crisps. Can you say, I would eat this every day!
A few things I loved about my week or am grateful for:
+ I got my POPSUGAR sweatshirt! A few months ago I was asked to be a Select Fitness blogger and slowly they have been sending out sweatshirts to all the new recruits. I love it! So cozy 🙂
+ Another new thing I am loving is my Budda Necklace that I won over at Jen's blog. The necklace is made by Erin Dermott. She seriously have the pretty jewelry! Go check her out!
+ Well, next week, exactly 7 days, I will be an adult 😉 Be prepared for a celebratory Friday Finisher!
So tell me:
+ What are you up to this weekend?
+ Do you have a favorite piece of jewelry? I love my Buddha necklace, but I also love the matching branch necklaces I got for my mom and myself last Christmas.
+ Have any upcoming events your excited about?
Have a beautiful weekend friends!
———————————————-
Stay connected: Facebook:
Strength and Sunshine
Twitter:
@RebeccaGF666
Instagram:
rebeccagf666
Pinterest:
RebeccaGF666
Bloglovin':
Strength and Sunshine