My childhood took place in the 2000s. Born 1996 and now in 2014, I've been alive for 18 years, been in 3 decades, 2 millenniums, and a pretty big transitional time in society with this rise and take-over of technology. However, my childhood wasn't all that techie. I am proud to say that I used my imagination and "played." I didn't sit around and watch TV all day, nor do I do that now. Here are some of the things that I did as a child to keep myself entertained while I wasn't at dance or in school.
1. Stuffed Animals.
I'm pretty sure stuffed animals defined my childhood. That's what I played with the most, but it was so much more than just play. My brother and I had integrated a huge group of stuffed animals which we named "The Guys" into our whole family's life. Each guy had a name, family, story, and they each had different voices. They really we a part of our family. My brother and I based all of our play on the guys. We would have "guy" sleep overs and sleep in sleeping bags in my brother's room playing with the guys all night. We would create radio stations with my brothers old tape recorder, complete with talk shows, music, and the most hilarious antics all by the guys. Even when we would simply eat lunch or dinner, we called the kitchen the "Lunch, Breakfast, Dinner Inn." The guys would join us and be eating at this restaurant everyday. Basically this is my most favorite and prized childhood memory.
2. Barbies, Bratz, Polly Pocket, Betty Spaghetti, and What's Her Face.
What girl doesn't like Barbies? It is just an integral part to being a little girl. I loved getting a new boxed up Barbie for Christmas, Easter, or my birthday, opening it up with all those twist ties, plastic crap, and tape. But once I got the Barbie out, I loved how perfect her hair would be and nice and new. I loved getting the play sets and setting up whole towns, essentially taking over the living room floor for days until my mom would make me clean it up. The same this with Bratz. They are a bit creepy, but I still played with them. Polly Pocket was awesome too! Rubber clothes for little dolls? Teeny tinny shoes that got lost all the time? What a brilliant idea 😉 Betty Spaghetti was another favorite although I never was skilled enough to do anything creative with the "spaghetti" hair. What's Her Face! They were so fun! Drawing your own face on a doll! Of course half the time I would purposely make the ugly just to be silly.
3. Making "Potions."
I got in trouble so many times for this! I would have tons of lotions and make-up, things like that. Then I would get bored and start combining them. I would get a little bottle or container and just mix every possible thing I could in there. It was fun! (I guess this was foreshadowing my crazy love for cooking all.the.things!). Then I would try to hide my creations somewhere in my room. Inevitably though my mom would always find them and get made 😛 My brother and I also made "potions" while in the grocery store with my mom. She would be down the aisles getting stuff and my brother and I would secretly start combining loose food in a plastic produce bag. Think bulk bin items, coffee beans, sugar, flour. Then we would leave it somewhere in the store for someone to find 😉
4. Video Games.
Okay, so I did get a little techie. My brother and I loved playing the old Nintendo '64, Super Nintendo, Game Boy, and the best...Game Cube! Seriously these were some of the most fun times as well. We loved playing the old 007 games on the '64 and I loved playing games like Harvest Moon, The Sims, Animal Crossing, more 007 on the Cube. Good times! I haven't played video games in a long time...my brother however...he never got out of that trend 😛
5. Creative Play.
I did a lot of stuff with my brother when we were younger. Since he is only 2 years older, we were pretty close. We loved making up story lines, TV shows, things like that and then acting them out as the characters. We would play outside and all around the house. We created a TV show called "Stranded" and kind of based it off the show Lost. We would come up with the most crazy story lines, like setting up jail cells in our closets, using the pool as a never ending ocean, etc. But it was all so much fun!
6. "Gymnastics" in the Living Room.
I spent a lot of my time just flipping around in the living room. Practicing handstands, walking on my hands, jumping around on the couch, just moving all over the place! With all that handstand practice though, I only just now can hold a handstand and walk on my hands, haha! I guess that's just another reason I was meant to do yoga 😛 I love moving my body around in weird ways!
7. Legos.
My brother was the one with the Legos, but we would let me play too. We would set up little towns, build houses, and he even had this ship that we would take in the pool and pretend it was sinking. We always played Legos in the basement of my grandparents house though; that was the best! They has gallons of really old ones and we would keep the houses and stories we made up, set up for each time we came over.
8. Calico Critters.
I always wanted Play Mobile, but those play-sets were for the rich kids. They were so expensive...but so were Calico Critters. However I did eventually get my big Green Calico house. That house and the critters we so cute! They had tiny little plates, couches, beds, even a tiny little soap bar! That this was a prized possession and something I will definitely hold on to. Too bad I don't want kids...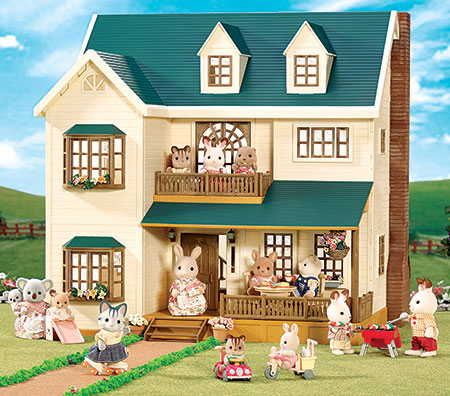 9. Writing "stories."
When I was a little older, one of my old friends got me into writing stories. I would buy a bunch of composition notebooks from the store and just start writing the most random "novels." Each story always ended up never getting finished and just lasted a few pages, but it was fun at the time. My friend and I would call each other up and read out stories to each other late into the night. I got pretty weirded out though once I realized all her stories were depressing and dark...pre-teen angst?
10. Baby Born.
A life-size baby doll you could feed and then it would proceeded to actually pee! My friend and I were obsessed with these dolls and would play with them while I brothers were in Cub Scoot meetings. She introduced me to them and then I just had to have one and finally for Christmas one year got my own! But to clean the doll out after feeling it all that special magic powder food mix, you had to feed it a bottle of hot water and dish soap and then proceed to shake the thing really hard. (This is was not a doll intended for little kids, haha!)
11. Playing School.
I hated school, but I loved playing it on my own! I had a whole little "school studio" set up in my huge closet at one time. I would set out a few stuffed animals and pretend they were the students. I would usually do arts and crafts type things, but it was always fun to "be the teacher!" 😛
12. Tattoos!
Well I didn't really do these much as a kid, but I did wear my fair share of temporary tattoos. The reason I bring this up though is that I just started playing with them again...kinda 😉 My TaT, is an awesome company making inspiring temporary tattoos for adults. From yogis, to runner, or even just inspiring words for survivors, there is something for everyone. Some of their collections include: yoga, outdoor athletes, charity, and power. I feel in love with the yoga collection and the power collection. My TaT sent me a My TaT zip bag of a bunch of their tattoos. But right when I saw the strength one, I knew that was the one I had to try first!
No I would never get a tattoo, but when I put this one on, I loved it! My favorite word right on my body. I thought it looked pretty good and pretty authentic too! I may need to rethink this "no tattoo" thing 😉 I placed it on the lower left portion of my core since I think my core is the strongest part of my body (planks for hours!). But it is also the center of my being and life. It was the perfect location for many reasons.
You can also create your own custom tattoos for order as well! And if you don't like where you put it and want to take it off quickly or take it off once it begins to fad, they provide a bottle of remover you simply pat on your skin to run off the tattoo. And they offer free shipping to anywhere in the US! So if you are a strong fitness junkie or yogi like me...these are so perfect to pump up your day and keep you motivated! You can find them on their website, Facebook, Twitter, Pinterest, and Instagram! They love getting insta pics of your tattoos so make sure to tag them and hashtag #myTaTlove!
So tell me:
+ What was you childhood decade and what did you do for fun?
+ Did you have siblings you played with and were close to growing up? I am so thankful that I did! Being an only child seems like it would have been very very boring and sad :/
+ Were you into temporary tattoos as a kid? Would you wear them now?
———————————————-
Stay connected: Facebook:
Strength and Sunshine
Twitter:
@RebeccaGF666
Instagram:
rebeccagf666
Pinterest:
RebeccaGF666
Bloglovin':
Strength and Sunshine
Google+:
Rebecca Pytell