Today is the day....that I get 4 teeth ripped out of my mouth! As you read this I am either starving (since I had to stop eating at midnight) and getting ready to leave, it's 8:45am and I am in the procedure in a drug induced sleep, or I am in pain and trying to relax at home. I'm still pretty positive though that I'll be fine, but I'll let you know tomorrow 😉 I've got strength and I'm good with pain. Plus I've been though some bizarre and painful procedures before and I can always handle it. (I'll have to tell you all about my in-grown toenail procedure sometime. It basically looked like I was getting a Chinese torture treatment done to my toes. Good times!)
Anyway, lets switch over to sleep! (Hoping I can sleep tonight!). Sleep is one of those things you need to be routine about. Otherwise it just doesn't work, right? You all know I am a very earlier riser (4:30am-5:30am depending on the day), so that also means I go to bed rather early too, especially for an 18-year-old. It is usually by 9:45pm at the latest. I just can't keep myself awake any longer than that and I have been trying! (Got to prepare for late nights in college!). But once I get a routine down like I have now, I don't ever find myself having trouble falling asleep. I don't wake-up tired either so I guess everything is working 🙂 Here's what my routine looks like:
Pretty simple but perfect (for me that is!). I usually start all this around 7pm and it's just the right amount of time to get myself settled and ready to sleep. A shower to wash off the days dirt and sweat (people who take showers in the morning bother me so much!), pre-bed snack time, read some of my book. Currently I just started reading Under Your Skin by: Sabine Durrant. A nice crime mystery thriller (the best type of book!). I am not one of those girly "beach read" type of readers, nor will you ever find me with some crappy "paranormal fantasy tween" book in my hands. I like my books full of murder, crime, government corruption, lawyers and trials. 😉 Thrilling and suspenseful!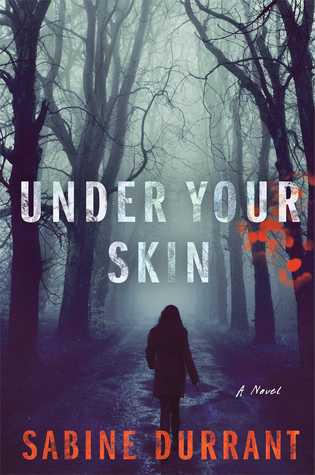 Once I start to get antsy from reading for a while, I will make my evening cup of tea! I have been drinking a nice mug (my GW mug) of hot peppermint tea with a bit of stevia every single night. Pure peppermint tea is supposed to relive stress and help soothe the tummy. It totally does both and I think it helps me sleep. Plus it tastes so damn good and is an herbal tea so I don't have to worry about caffeine!
And then I go back upstairs to my room and read some more. The only thing that makes me sad (all the time) is I drink my tea/coffee/really any beverage in about 10 seconds flat. Even if it is boiling hot. So my mug of peppermint on lasts until I get upstairs again. Then I just read, haha! After that I go back downstairs to brush my teeth, come back upstairs and check my email and social media on my phone. Yes, where are the anti-technology before bed police? Arrest me! I know it's "bad" but it is fine for me. I wouldn't be able to sleep if I DIDN'T check everything. That would be so stressful! After I do that (sorry I'm not sorry), I finally plug in my phone charger and lights out. I fall asleep really quickly from there, unless I start having freaks out about school (which has been happening more and more). Otherwise, I have a pretty perfect routine down.
I do always wake-up at least once in the middle of the night to go to the bathroom. I drink way to much before bed, but I just have to have all the liquids 😛 When I do get up, I check my phone again. Yes bad. But it's always blinking with a 10,00 notifications so I just have to. But then I put it away and go back to sleep in the blink of an eye! Until I wake up a few short hours later to start my day 😉
So tell me:
+ What does your night time routine look like?
+ Do you go to bed and wake-up around the same times everyday? I do! It's really is best to keep your internal clock on schedule!
+ Do you "sneak" on social media at night when your should be "un-plugged?" I won't judge 😉
*I am linking up with Amanda's Thinking Out Loud today!*
———————————————-
Stay connected: Facebook:
Strength and Sunshine
Twitter:
@RebeccaGF666
Instagram:
rebeccagf666
Pinterest:
RebeccaGF666
Bloglovin':
Strength and Sunshine
Google+:
Rebecca Pytell