This is going to be a really long Friday Finisher! When I gather posts I think are interesting or love for the Finisher, I start on a Friday and add them in a special bookmark folder for when I put the post together. So if I read any posts today that I like, they will go on next weeks finisher and so on. Well last week...MAN...you guys just kept pumping out the great reads! I found so many interesting posts and articles this week (I think I forgot to include some) and just have to share them all with you! You will definitely find something you like in the post...I guarantee it!
I have some super exciting news! But I can't really tell you...yet. You will have to wait until March, but believe me, it is the coolest thing! I am still jumping up and down about it. I can give you a hint. It has to do with yoga! I know, you are on the edge of your seat right now. Well I am too and I can not wait to share it with you...I can barely sleep!
Since I have so many links to share I will keep my intro a bit short. But this weekend I plan on testing some new recipes which I neglected to do last weekend. Relax and breath. Finish my novel (it will happen!). Do some work on scholarship essays, grocery shop, blog work, yoga, and well yea, all the usual! And tomorrow will be my February Recipe ReDux post! I don't like posting on the weekends, but you have to do what you have to do sometimes and my day to post for the ReDux is the 22nd of each month. Make sure you stop by!
Here is my 7th link-up to FTSF (Finish The Sentence Friday)! FTSF is that you are given a sentence each week and you finish it however you want, long or short. This week's sentence was, "One of my hidden talents is..."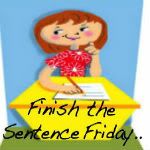 One of my hidden talents is that I can make a 3 leaf clover with my tongue! One day in elementary school during music class, I was really bored and just started practicing folding my tongue this way and that. Haha, yes I know...weird. I had always been about to fold it, but had never tried the clover. Well a few minutes later, I got it! And I have been able to do it ever since; it always freaks people out though. Apparently it is a genetic thing, as not everyone can do all the cool tongue folding tricks. My dad can, but my mom and brother can't. So hey, there you go! Another really random fact you now know about me 😉
SS Posts from the week:
Monday: Power Monday #33 American Heart Health Month
Tuesday: Reading...What Happened?
Wednesday: Peanut Pumpkin French Toast
Thursday: The Perks Of Working Out At Home
Blog Posts I loved this week:
+ There Are So Many Blogs To Read, A Confession, And Things I Am Sick Of Seeing On Blogs.
Haha, this is funny and I totally feel the same way! Enough of the Fro-yo, overnight oats, and smoothies!
+ Simple Steps To Improving Yourself - Self Love Saturday
Give your self the love and focus it deserves!
+ Utah Company's Banana Flour Hits The Shelves
This is a kickstarter campaign company and they are so cool! Banana flour?! Gluten-Free an awesome! I can't wait!
+ How To GAIN (Not Lose!) Weight In A Healthy Way
These articles don't come around often enough!
+ Tips For A Healthy Gut
Always love the digestion posts! Great tips and insight 🙂
+ 1 Year And Life Lessons
I am a newer reader to Krysten's blog, but anyone can tell what a beautiful and strong women she is by this post!
+ 9 Things You Should Never Say To Someone Who Eats Gluten-Free
Umm. Yea. Don't.
+ What Is "Healthy" To You?
Great topic and great explanation by Katie. She is simple her form of a "Healthy Diva"!
+ The Thing I Hate About My Blogging
Coming from such an open and honest blogger, Claire wishes she could be even more honest. But people can be just too sensitive...
+ Guard Against Getting Tired and Rest.
We need to remember to plan our rest before we get tired!
+ 10 Ways To Improve Quality Of Sleep
I love #1...Wake-up with the Sun!
+ You Wouldn't Give A Drug Addict A Cheat Day
Interesting perspective.
+ The Prob With Pinterest Workouts
Some of those workouts...are really stupid. I hope people know that doing 25 crunches and 25 push-ups before going in the shower will not give them the hot body of the girl in the picture.
+ I Am On The "Middle Ground" Diet.
No extremes; choose the middle ground! It doesn't have to be all or nothing. Do what fits you.
+ Eat To Perform With Proper Nutrition
The perfect fundamentals to a healthy diet and an active life!
The 3rd "meat" post from Jo-Lynne. I love these. If you are going to eat animals, know what is best before you buy!
+ Creating Fitness-Loving Children
Start them at a young age and teach them just how wonderful movement is!
+ The Single Piece Of Fitness Equipment That Builds Strength & Blasts Calories Like Crazy
The Sandbag! Not something most people think of working out with, but it is a great functional training piece.
+ Own Your Positive Body Image & Own Your Workouts. Own It.
Stand up for your workout style. Who cares if you are a women and you weight lift or do Crossfit? I say you are a crazy awesome beast!
The people who I never talked to in my life  or gave me the time of day got deleted this summer. I had almost 1000 friends, but boom, now I am down to less than 300 and most of them are all you wonderful blogger friends now 😉
Challenge your self always and get out of that comfort zone!
Danica is never afraid to write the truth! This is so important. Even though I always joke about not liking kids and not wanting them myself, if I ever do I would never put garbage into their bodies. We need to raise out young generation to be strong and healthy. We can't fuel them with chemical laden processed fake foods. It is not fair to them or the world.
+ Meal Planning & Reducing Food Waste
I hate wasting food! I always make sure I use up all my groceries and can not stand to see something get thrown out. I don't meal plan though, but I always get a general list of things in my head that I will have for dinner that week. Then I just jot down some things on my grocery list (but never have to look at it) before I go to the store.
+ Positive Body Talk
It is hard to do 100% of the time, but when we feel down about ourselves we just need to remember that we are worth it as we are.
+ Fitness Is A Journey
Fitness changes over time. It is different for everyone. It will change from year to year and what might be "fit" to one, might be totally different to another.
+ 100 Planks (YouTube Video)
Every variation you could ever want of the best exercise 🙂
+ 12 Things Everyone Should Do More Often
I still have to work on #1. I like #3, #5, and #10 too!
Favorite Pins:
(Follow me on Pinterest – RebeccaGF666)
Simple Chopped Salad. Yum! This has me craving all.the.veggies!
Health Benefits of Tea Infograph. Tea = Love <3
Spring Style. Such a cute outfit! Now all we need is spring!
Gluten-Free Vegan Pumpkin Roll. This is so clean, easy, and healthy! Crazy delicious!
Caesar Salad Version 2.0. Vegan yummy goodness!
Gluten-Free Quinoa Flour Naan. Ah, Indian gluten-free love! I have never made Naan (crazy right?) But now I can!
The Balance Bowl. Basically these types of dinner bowls are the greatest things ever. I could eat them everyday! (Which I usually do, haha!)
A few things I loved about my week or am grateful for:
+ That awesome thing I told you about in the beginning! I still can't believe it!
+ Wink sent me their products to sample! I love the company and met them at the GFAF Expo. They are so sweet and so are their desserts 😉 Stay tuned for a review within the next couple of weeks after I finish testing out all the flavors 😉
+ You know, it is starting to warm-up a bit! Just a bit, but I notice it and just keep encouraging Mother Nature to keep it up!
So Tell Me:
Do you have any hidden "talents"? Can you fold your tongue? Are you badass enough to do the 3 leaf-clover?
Tell me, tell me, what you favorite post/article was this week!
What's on the weekend to-do list for you?
P.S. I have to congratulate Janetha on her news! I am so excited for her and Marshall! She was one of the original bloggers I ever started reading and I have missed her posts so much! But now we all know why 😉
———————————————-
Stay connected: Facebook:
Strength and Sunshine
Twitter:
@RebeccaGF666
Instagram:
rebeccagf666
Pinterest:
RebeccaGF666
Bloglovin':
Strength and Sunshine