Hey friends! How was your week? Well I owe you an update. On Monday I mentioned I had an important phone call and would likely be able to tell you about it on Friday. Well I was able to really think about it so here we go. I did some crazy emailing over the weekend to localish yoga schools/studios. Sadly I found most only had 200 hour training that would take multiple months (weekend only type programs) or had already started, or would only start later this year. Well I have a deadline here. I wanted to be done with training by the middle of August, before I move to a new state for school. Well one yoga school got back to me and they had such a reasonable price ($2100) for their 200 hour program. They are also a holistic healing school so I would be learning holistic techniques in nutrition, mediation, healing, as well as a strong bade is Hatha/Ashtanga yoga. The owner actually called me and we talked for about an hour. He said I could try to accelerate the training by doing private instructions and taking more classes during the week, not just weekends. The first teacher training type class is actually this Sunday. He also said we could work out an easy payment plan and even a discount if I share my training with you all on the blog. However the more I thought about it over the next few days I realized I probably would not be able to finish the program in my time frame, especially with the next few months and the summer being extremely busy with college, traveling, etc. I am also unsure if it is the type of training I want. I would come out certified as a Yoga Alliance credited teacher as well as a yoga therapist. I sounds appealing, but am I just being biased since it was the only option that could potentially work? I am still debating on if I should stop by on Sunday for that first class. But ultimately I think I am going to have to wait and start my training later in the year once I start school. Then I won't have to rush and could find the best studio/school for me in the state that I will be living in. Decisions...what would you do?
While I am still mulling this over here is my 12th link-up to FTSF (Finish The Sentence Friday)! FTSF is that you are given a sentence each week and you finish it however you want, long or short. This week's sentence was, "I went to a concert..."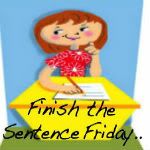 I went to a concert at the Starland Ballroom with my mom and brother. Actually I've gone to 4 concerts there with them. But my first concert was at Madison Square Garden with my mom to see Neil Diamond! Yes, he is the man 😉 Now let's shift our musical genres to what all 3 of us love. Rock! Eclectic much? At SB we have seen Shinedown, Three Days Grace, Breaking Benjamin, Red, Sick Puppies, Adelita's Way, Scarlet Carson, Halestorm, and some others. Now if you can picture me, my mom, and my brother getting special Star Parking so we could get in the venue first, and then running to the front of the room (it is standing room only with bars around the perimeter and a few tables, but the center is standing), and getting front row! Then come in the crowds of rowdy crazy rocker fans...ambient to get drunk and obnoxious. Three Days Grace was the craziest one. We were getting smashed into the front half-wall guarding the stage, getting people crowd surfed (and taken by security) right over us, and mosh pits expanding toward us. Crazy, loud, not my cup of tea. Another memorable moment was at the Red concert. My mom loves them! However the sound was a bit screwed up that time (Morphy's Law, as my mom would say...and she did), but besides that it was great. It was also not finished with out an injury to my mom. During Red's performance, the drummer threw one of his drum stick to the crowd, it went right above us and we tried to grab it. Some drunk woman behind my mom snatched it and smashed the stick down on my moms head! Let's just say a bruised head and pain were involved after that. Good memories, but truthfully I am not a music person and really don't like crowds. Combine those and a concert is not exactly a party for me 😉
SS Posts from the week:
Saturday: Recipe Redux #5 Purple Bean Patties
Monday: Power Monday #38 Rep It Out: 124
Tuesday: Cinnamon Roasted Almond Butter
Wednesday: Aloha! Quinoa Flakes
Thursday: Photo Thursday
Blog Posts I loved this week:
+ Meet Jonny | Stroke Survivor
I did not know this about Linz's husband. He is one amazing man!
+ Benefits Of Strength Training
Just in case you still need more incentive to lift something heavy 😉
+ Discomfort vs. Pain: The Runner's Dilemma
Can you tell the difference? Do you just work though it or do you listen to your body?
+ Are You A Bored Eater?
Ask yourself: Are you a bored eater? Or a bored emotional eater?
+ My Addiction To Exercise Permanently Damaged My Body. But It Also Taught Me How To Love Myself.
A great eye-opening personal read!
+ How To Kick Franken-Food To The Curb
Real Food Foodies unite!
+ Food Photography Tip Of The Week #3
It is all about texture. (Is anyone else totally loving Ashley's posts?!)
+ Digestive Issue? It's Time To Blame The Vegetables
Mmm, yea...I won't believe it, I refuse!
+ My Strategies For Eating A High-Calorie Diet
Totally not easy, but there are little things you can do to get there!
+ A No BS Guide To Food Photography
Great post by an amazing foodie photographer <3
Ways to switch up a beast move!
+ Skipping A Workout Won't Make You Fat
How do you feel about skipping or missing a workout?
Great post and discussion! Definitely food for thought!
+ Why You Probably Don't Need To Wash Your Face (And What To Do Instead)
Very interesting. I wash my face with cleanser while I am in the shower, but that is it.
+ Overcoming Hardships
Read this! This little boy knows more than most adults! Beautiful <3
+ Stop Misusing Social Media By Following These Easy Steps
Learn how to optimize and be the best!
+ 6 Signs Of A Good Diet
See! It really isn't that complicated, just do it! 🙂
+ My Ultimate Workout Recovery Reference List
Great list of supplements to take post workout/event!
+ Fitness Diary: The Mental Battle Of Purposely Gaining 10 Pounds
Have you ever needed/tried to gain weight? Let me tell you, it is no walk in the park. People think it is easy, but it is not.
+ Should You Do Cardio Or Not?
Are you a cardio-basher? I don't like straight up cardio activities, but I will do my 2 sessions of HIIT each week to keep my lungs conditioned.
+ How To Run A Successful Twitter Chat
Great tips! I've only ever participated in one, but I found it a lot of fun!
Great perspective/thoughts for both sides!
I wish we all just did this. No dieting, no cutting out food groups or restriction, just simple real eating for a happier healthier you!
+ Why Magazines [Geared Towards Women] Suck
Exactly. That's why I unsubscribed to Fitness and don't Shape or Self, or any of those. Don't want it, don't need it! But I do like my new Yoga Journal subscription. It is full of love...and yoga. I always feel so Zen reading it!
+ What's So Funny About Anaphylaxis?
It is not a joke. Do you have food allergies? Of course I have Celiac (technically not an allergy but an autoimmune disease) I also have a soy allergy. My mom has a severe allergy to shellfish and possibly all fish, so she has to stay away from it all.
Favorite Pins:
(Follow me on Pinterest – RebeccaGF666)
Vegan Falafel Salad. Falafel in salad form? Count me in!
Body Burnin' 100 Rep Workout. This looks quick, effective, and sweaty!
The Nourish + Glow  Miracle Bowl. A nourishing dinner bowl at its finest!
Guide to Soaking and Sprouting. I love this! Such a good reference 🙂
Marc New York Floral Lace. So pretty! And it isn't too expensive...win!
Coconut & Flax Granola Bars. Yum! These look awesome and easy to make 🙂
Toasted Coconut Butter. O gosh! Is this heaven?
A few things I loved about my week or am grateful for:
+ I just have to say that I am grateful for the weekend! This week wasn't to bad, not to slow, but not to interesting either. I just love my time on the weekends for doing nothing productive, cooking more elaborate meals, yogaing, and connecting with my mind and body.
+ I am not sure if this is something I should be grateful for, but by the end of next week I will have most likely heard back from all of my colleges...then the real decisions begin! So many decisions I need to make, ah! I am no good at this 🙁
+ I won a Race Ragz giveaway to design 1 free shirt. Well I received it the other day...take a look! The front says, Strength and Sunshine (A Happy Healthy Journey) and the back says, A Yoga, Weight Lifting, Gluten-Free, Soy-Free, Vegan, Healthy, Happy, Life! Haha totally defines me 🙂 I love it!
+ Opening a new jar of some amazing nut butter is always a highlight of the week 😉
So Tell Me:
What was the first concert you went to?
How do you feel about the whole Self Magazine debacle and "bullying"?
Tell me who or what inspired you this week?
Have an absolutely beautiful weekend lovelies! XOXO
———————————————-
Stay connected: Facebook:
Strength and Sunshine
Twitter:
@RebeccaGF666
Instagram:
rebeccagf666
Pinterest:
RebeccaGF666
Bloglovin':
Strength and Sunshine