Hey guys! This week seemed so long. Like three weeks in one. You would think it wouldn't since I only had 2 and ½ days of school, but it seems like when there are snow days and whatnot that week just drags and in a not good way. However, it has left me feeling kind of productive so I am hoping to get some things on the never ending to-do list done this weekend. We will see how that goes 😉
A fun tidbit: The Color Me Rad race schedule is up and they finally opened up registration for the Allentown, PA race. It only costs about $32 with tax and it isn't to far away. Plus it is held at Dorney Park! I used to get season passes to there every summer when I was younger. We would only go to the water park, but it was always a fun twice weekly family trip 🙂 Anyway back to the point. Color Me Rad is a 5k color run and well it is really low key and all about fun. So...I want to sign up! It is May 10th so I have some time to get into some running and I am really hoping I can do it. It is no stress and would just be a fun first 5k. So maybe, maybe, I will sign-up!
Time for my third link-up to FTSF (Finish The Sentence Friday)! FTSF is that you are given a sentence each week and you finish it however you want, long or short. This week's sentence was, "We can either be traditional or non-traditional in the way we do things, I..."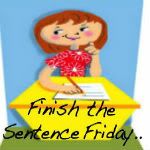 We can either be traditional or non-traditional in the way we do things, I am not traditional in the way my family eats dinner. When I was younger my mom would cook dinner for my brother and my self and we would eat at the table and my mom would sometimes join us but usually would just eat standing up in the kitchen or later. As I grew-up and started cooking my own food and life got crazier, sitting down at the table ceased to happen. My mom still cooked dinner for my brother (and still does...ugh, she babys him, haha!) and he would eat whenever. I cook for myself and eat dinner really early now. My mom, I don't even know, but she will cook something or just snack throughout the night, but she has gotten better with making a meal for herself. My dad is never home and never has been home so that is why we never had a big family sit-down dinner. But Eating at the table is just not our thing. We all like to eat at different times and have different diets so we all eat different things. I eat in my room at my desk while I work on the computer. Yea, I know, it is so bad and mindless, but that is just how it fits in to my schedule during the year. I do like to eat outside on the deck during the summer and savor my food with no technology, but alas it is not summer, haha! I really don;t mind not sitting down with my mom to eat dinner now though, it just isn't "our family" so I guess whatever works is best, right?
SS Posts from the week:
Monday: Power Monday #29 #LetsMingle Monday #23
Tuesday: What's In My Spice Cabinet?
Wednesday: Recipe ReDux #3 Roasted Winter Veggie Tortilla Pizza
Thursday: Thinking Out Loud #1
Blog Posts I loved this week:
I found Char's post really informative and so genuine and real!
Again, the shape of your body, skinny slim, athletic, curvy, does not define you as a women!
A perfect guide to everything you need to know about root veggies!
You just can't please everyone.
+ What I've learned From A Year Of Paleo
One diet does not fit everyone, but it does fit some and it can be a very good thing!
+ Nobody Says It, But This Is The Greatest Weightlifting Lesson I've Learned
"Slow, Slow, and Never Stop!"
Sometimes thinking less and doing more is what we need.
+ Emotional Eating
Food doesn't have to be dictated by emotions but we should still connect with our nourishment and the beauty of cooking.
+ #YOLO: How To Live Life To It's Fullest
Live and love life! Don't regret a thing!
It can be a great thing, but you just need to remember that you are no less because you are not the best.
+ The Complete Reference Guide To Spiralizing Vegetables & Fruit
I am so glad I got a Spiralizer! (Even if I have only used it once so far...) But the possibilities are endless!
+ Q&A Part 1: Blogging and Biz
Awesome Q&A from Lee!
+ Run, Eat, Don't Repeat: Breaking The Exercise To Eat Cycle
Very interesting post. Do you find yourself exercising to make up for how you ate?
+ 20 Things I Learned From My Grandfather
This is so sweet, love it!
+ 14 Ways To Promote Your Blog Post After You Publish
A blogger's work is never done...ever!
+ Protein Baked Goods: Yay Or Nay?
Hm, where do you stand?
+ 10 Reasons To Stretch That You Haven't Heard
Stretching, yoga, o the endless benefits!
Favorite Pins:
(Follow me on Pinterest – RebeccaGF666)
Quinoa & Beet Kale Dolmades. Um, that looks so delicious I might just die.
Detailed Cuffs Army Sweater with Skinny Jeans. Love the look and the hat is a nice tough 🙂
DIY Alphabet Earrings. How can you get any cuter than this! *Just use G-Free pasta 😉
Spinach, Pear, and Mint Smoothie. Mmmm, this looks so refreshing! Plus the green is gorgeous!
A few things I loved about my week or am grateful for:
+ I am going simple with my gratefulness this week starting with: the ability to read <3
+ Starting to make really great blend connections 🙂
+ Over 800 followers on Pinterest, almost 100 likes on Facebook, and 300 Twitter followers!
+ The strength to move, yoga, and lift heavy things.
+ Most importantly, my family <3
So tell me:
Have you ever done a color run?
"We can either be traditional or non-traditional in the way we do things, I..."
What's on the weekend docket?