Happy V-Day lovely friends! Another week is in the books and another week not without snow. I don't mind snow itself, I just can't handle these outrageously cold temperatures. But I am trying not to dwell on it too much. There is nothing I can do and most of the country is experiencing it together (most). I had another snow day yesterday, but it stopped snowing by the afternoon. We got some crazy inches, but I was secretly hoping for a total blizzard and then it started "thunder-icing" around 7pm. But hey some exciting news if you haven't heard yet! Blend registration opens at 8pm eastern time on Sunday night! I am so excited. I may have to wait a few days to register but this will happen, I have to go! You know what else is awesome…peanut butter. Not just any peanut butter. But Wild Friend's Cinnamon Raisin PB! O..my..goodness. This stuff is crack! I first tried it on a PSP the other day and basically died right there. It was pure heaven. Plus it actually isn't crazy sweet which I though it would be. A total plus in my book. I then proceeded to put it on an apple later that night and almost died again. I am pretty sure this jar is going to be demolished in no time! I usually but almond butter, sunflower butter, cashew butters, you know, the fancier nut butters. But sometimes a simple peanut butter is all you need…especially when it has cinnamon, my favorite! I just home my grocery continues to carry it. They never carry goodness like this so I was floored when I saw it on the shelves. Fingers crossed it stays!
Here is my 6th link-up to FTSF (Finish The Sentence Friday)! FTSF is that you are given a sentence each week and you finish it however you want, long or short. This week's sentence was, "I was found guilty…"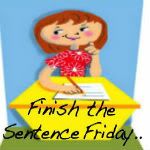 I was found guilty of lying. Now lying is one of my true biggest pet peeves. I can not stand it. There is no need to lie and the truth always comes out…always. Lying is disgusting and I hate it so much. So for me, I rarely lie and I will always be honest with you. But for some reason this event that happened when I was in 3rd or 4th grade has always stuck with me. My mom had to leave for work a few minutes before my brother and I would walk over to school (he is 2 years older) and so we would be home alone for about a half hour in the mornings. I don't remember what we were doing exactly, but I had the bottle of rubbing alcohol out on the living room floor (which is carpeted (white) with hard wood underneath). Some how the whole bottle fell over, and the alcohol went everywhere! We proceeded to freak out and rushed to grab a towel hanging on the bathroom door and water from the sink. We tried to pour water on the spot and then soak it up with the towel. Well we just made the spot huge and really wet and it smelled like rubbing alcohol. We had to leave for school though so we just put the soaking towel back and left the floor as is. When my mom came home later that day and saw it she was like what happened? Why is that towel in the bathroom soaked? Well I was scared to tell her for some reason so I lied and said I had no idea. Eventually the truth came out (the rug was fine though and not stained, everything just took the day to dry). This was a pretty silly white lie, but I never forget it for some reason. I felt so horrible after I told her the lie and I knew from the point forward in my life, lying would be a no go. It really hurts mentally and physically to lie. It tastes bad in your mouth and you can't forget it. Am I right?
SS Posts from the week:
Monday: Power Monday #32 Olympic Tabata

Tuesday: Will You Be My Valentine? Chocolate Raspberry Heartcakes

Wednesday: Lentil Quinoa Meatball Bolognese and Zucchini Noodles
Thursday: Vitamins, Supplements, and a Health Update
Blog Posts I loved this week:
+ 10 Things I've Learned From 5 Years Of Blogging
Such important lessons from one of my favorite bloggers.
+ How To Find YOUR Happy Weight
Do you believe that your body has a happy set-point?
+ Calorie Counting, Fat Fears & Trusting
A beautiful realization on trusting yourself and being confident with your body!
I agree that grains are not the be-all-end-all, and that gluten should not be considered a "food group" and that going G-Free is the diet for every person who thinks it will make them healthy (so wrong!). But I don't believe in a grain-free diet either.
+ Sitting Is Not The New Smoking. But I Still Got A Stand-Up Desk.
Yea, smoking is a hell of a lot worse, but we can all stand more. It will just make you feel better. I notice when I sit all day I am so tired, but once I get up and moving, the energy starting flowing and I feel so much better. (I wish they had stand-up desks at school…).
Just beautiful honesty. It is up to you to change.
+ How To Make A Social Media Kit Using PicMonkey
My goal this weekend is to make a media kit. I keep seeing great posts on how to easy make one, so it must happen!
+ Nutrition Q&A: Protein + Plant-Based Diets
Great info! 2TB of Nutritional Yeast has 8g of protein?! That's awesome, who knew!
+ My Brain On Exercise: Overcoming Anxiety & Depression
The power of movement is no joke.
+ Why Is Everyone Eliminating Foods From Their Diet?
Cutting out food groups does not mean weight loss! Healthy eating is not about being Paleo, Vegan, Grain-Free, etc. Your can gain weight on any of those diets. The was to stay healthy is to eat real food that makes your body feel good. Portion control and eating minimally processed should be key if you want to "loss weight". Besides that, stop naming certain foods as the devil!
+ We're Bloggers. We're Weird.
Haha, this is so cute, I find myself doing a lot of them. I have a new quirk to add too! Since I don't have any real or fancy Ball Jars, so anything I finish that came in a class jar, i.e. nut butters, fruit butters, salsa, sauerkraut, I have been washing out when finished and saving them! I love storing my nuts in them for easy access 🙂
+ Why Magnesium Is Essential For A Healthy & Happy Life
Going along with my post yesterday…these are some awesome benefits that Magnesium can do for the body!
Favorite Pins:
(Follow me on Pinterest – RebeccaGF666)
Bold Stripes Heidi Merrick Dress. Why are such beautiful things always no longer available!?
Sugar-Free Barbecue Sauce. I need to make this! I have not found a cleaner, vegan and allergy-free recipe then this one!
Grey Shirt and Red Maxi Combo. I would wear this every day in the Summer. So casual/chic!
Chili Lime Black Bean and Red Rice Burrito. Can you say delicious?!
Paleo Sweet Potato Muffins ( Egg, Nut, and Grain Free). Wow, an egg and nut free Paleo recipe? Now I am impressed!
Cumin & Black Sesame Naan. So perfect paired with some Chana Masala 😉
1000 Rep Home Workout. Perfect full-body killer when you are stuck inside or just bored with your usual workout!
Banana Fosters Cinnamon Rolls. Davida is the queen of drool inducing recipes!
A few things I loved about my week or am grateful for:
+ Cinnamon Raisin Peanut Butter…enough said!
+ Yoga! Yoga has really been calling me these last few weeks and I just can't get enough. I love practicing so much and will always be grateful for bringing it into my life! You know what else happened this week. I sent my favorite yoga instructor, Fiji McAlpine, a friend request on Facebook a few weeks ago and guess what?! She actually accepted it! I am totally star struck. Haha, creepy but o so awesome! I found out she is pregnant and her first prenatal yoga video will be going up on DoYogaWithMe.com soon!
+ I am grateful for the love of my family. Seeing as it is V-Day, it is only appropriate to embrace the love and care!
So Tell Me:
 Are you going to Blend? Who wants to room together?!
 Have you ever made a silly white lie that you felt really bad about after?
How are you spending you Valentine's Day or are you waiting for the weekend to celebrate? I think I will be making these tomorrow morning for some self V-Day love!
———————————————-
Stay connected: Facebook:
Strength and Sunshine
Twitter:
@RebeccaGF666
Instagram:
rebeccagf666
Pinterest:
RebeccaGF666
Bloglovin':
Strength and Sunshine