So this week went by pretty quickly and it was actually out first week of full school everyday since who knows when. But it still snowed pretty hard on Wednesday morning…I even slipped and fell smack on my butt while going out to the car in the morning. Freshly falling snow on slick frozen ice is not a good mix. Be careful out their children! This week has also been kind of weird. Monday was a really horrible day and our power was even out most of the night for no reason other then our power company sucks! I also just never seemed to know what day it even was. I felt like I was just kind of floating through the week and not really here on Earth. Weird, right? Well, it is over and time for the weekend, thank goodness! But they are saying a major storm is coming on Sunday night into Monday and most of the teachers at school are planning on us not having school. That leaves us with a one day spring break if that happens. Joy. If we have another snow day after that then we have to do Saturday school! I can assure you I will not be attending…Let's just home Mother Nature gets her things straight and starts to turn this crap weather in to spring. It is March 1st tomorrow! Come on! I hear the crazy cold wind howling right now and it is about 4 degrees out…wonderful.
And here is my 8th link-up to FTSF (Finish The Sentence Friday)! FTSF is that you are given a sentence each week and you finish it however you want, long or short. This week's sentence was, "The most unexpected part of being a grownup is…"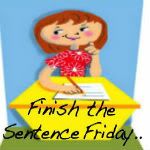 The most unexpected part of being a grownup is…well this is awkward because I am not really a "grownup" yet. But I don't believe we are ever truly grownup. We are always in a constant state of learning, about life, ourselves, others, the world. Responsibilities are always changing and unexpected situations continue to arise. However I know I am ready to be on my own. I can take care of my self and have been for many years. I can cook (obviously), clean, drive, budget, organize, even jump-start a car. The one thing I don't know how to do is laundry! I have never done it, but my mom will be showing me soon enough before I go off to college in the Fall. Got to know how to wash those clothes 😉
SS Posts from the week:
Saturday: Recipe ReDux #4 Strawberry Refresher
Monday: Power Monday #34 Yogis To Follow On Instagram

Tuesday: The Wonderful World Of Gluten-Free Grains

Wednesday: Vegan Chickpea Flour Omelet
Thursday: Mexican Spaghetti Squash Bowls
Blog Posts I loved this week:
No need for a boring lunch! These will wow your co-workers and friends for sure 🙂
+ The Actual Difference Between Women Who Are Hot And Women Who Are Beautiful
So true! I love the last one the best 🙂
+ Carbohydrates: Your Body Needs Them
Carbohydrates come in so many healthy forms and they are the first source of energy we need.
+ What's On My Mind: Is Blogging Really Worth It?
Blogging is worth it! It is not about the number of followers you have or the sponsorships you get. It is not about turning yourself into a "brand". It is about your personal journey, sharing what you love, and enjoying the simple connections you make even if that is only with one or two people.
+ 36 Lessons I've Learned About Habits
Some healthy ways to kick those habits that hold you back!
+ When Is It OK To Exercise When You're Sick?
Take a rest if you need it. Don't push it and listen to your body…it knows!
Great read from Linz and her feelings on her body image during her pregnancy.
My #2 favorite exercise in the whole world! #1 is planks 😉
+ Blogging Politics – Copycat Blogging
 It is sad, but I am seeing this more and more. I don't want to read the same post from 10 different bloggers. Come up with you own ideas or take a break if you need to regroup! But it also sucks when you see 50 bloggers do the same sponsored post for the same pair of shoes…man. I understand that they have to, but I definitely don't read those posts.
+ Maximizing Your Grocery Budget
I love the idea of a master list for all the weekly essentials!
+ You Are Not Diminished By Others' Success
Don't compare your failures to someone else success. We all are on different paths and just need to embrace love and confidence in everything we do!
+ I May Have Made Myself Unfriendable
Do you find it hard to maintain a true friendship? I tend to not get close to people anymore due to horrible relationships in my past. I don't want to waste my time anymore and end up getting hurt again.
+ Bloggers: Let's Stop Apologizing
Why do bloggers feel the need to apologize when real life gets in the way? Like yea, you didn't blog for a week, but do you really need to apologize…NO!
+ Let Go Of Having Control To Gain Control
This takes strength…a lot of strength.
+ Eating Disorder Awareness & Recovery: As The Sun Rises, The Darkness Fades
Beautiful post for ED awareness week!
+ Some Great Things About Recovery
Another great ED awareness post. One of the best things is not fearing certain wonderful foods for sure!
+ Importance Of Variety In Your Fitness Routine
Don't get stuck doing just one thing! There are so many forms of fitness out there and changing it up is essential for the body and the mind!
Clutter is everywhere in our house, not just the kitchen. (The kitchen table is the worst thought!) But all of our clutter seems to be papers, papers, and more papers. But a lot of those papers are important and need to be kept…while some need to get thrown out! (*Hint Hint*)
+ Here's What's Changing On Food Nutrition Facts Labels
Yea, I will be dedicating a post on this for Power Monday next week, don't you worry.
It is your largest organ! Take care of it and shine from the outside 🙂
+ 10 Ways To Make Your Vegan Cooking The Best
Great tips for an aspiring vegan cook 😉
+ Breaking The Perpetual Cycle Of Sugar Addiction
Sugar is not cool. A high sugar diet leaves you lethargic, unhealthy, and so below your overall health potential!
+ SITS Feature: Strength and Sunshine
I just want to thank everyone who wished me a happy SITS Day and commented on this post and my blog! I seriously was in tears reading all the comments on that post. Maybe blogging is the right thing for me after all. I was sad though that I wasn't informed I would be featured on Wednesday like I was told I would. So I had no idea until my blog was flooded with comments. I would have liked to do a special post, but what can you do! However I am still so grateful for all my readers and all the love of the blogging community! Thank you all so much! XOXO
Favorite Pins:
(Follow me on Pinterest – RebeccaGF666)
The Unbelievable Bread. Pretty damn unbelievable 😉
Mushroom and Bean Vegan Chili. Mmmmm, so good! I haven't made any soup of chili since December! I need to get on that!
Power Plyo Tabata Workout. This. Looks. Killer!
How To Spiralize A Plantain & Plantain "Rice" And Beans. What? Two of my favorite things! Spiralizer+Plantain=Genius!
Raspberry Orange Ginger Swirl Smoothie. This looks intriguingly good. Awesome flavor combo!
A few things I loved about my week or am grateful for:
+ I got offered the opportunity to be a LiveBlogger for the 2014 Fitbloggin' Conference in Savannah, Georgia! I am so honored to be picked…I just need to figure out a way to pay for the plane and hotel. My ticket for the conference will be fully covered but everything else is on me. These plane costs are ridiculous and thus is the reason I don;t think I will be able to go to Blend either….I am still really depressed about that. 🙁
+ My SITS Day feature (see above 😉 )
+ Some of my goodies FINALLY came from a Vitacost giveaway I won. Let me tell you how unimpressed and unhappy I am with the service through the whole thing. I am really angry with them right now. It has been an extremely long ordeal to get this stuff and my order got so screwed up when it finally came. Plus I am still waiting for some tea and coconut oil I ordered. Ugh! I never had problems with Vitacost before this stupid giveaway.
+ Holy Crap! I think I just died! I was about to close off this post and schedule it to go up in the morning, but I just looked at my email and BAM! I WAS ACCEPTED AS A FITFLUENTAIL AMBASSADOR! I am in tears right now! I am so happy! I had to run down and tell my mom the news even though she has no idea what I am talking about, haha! I have been wait for this since early October! I am beyond happy and totally speechless right now! Okay, I need to calm down and just take this all in. I have no words but that I am so honored and so so so thankful!
So Tell Me:
 If you are a "grownup" (seriously what does that even mean) what is something unexpected you found out?
 Tell me you weekend plans! Homework, cooking new recipes with some of my new products, writing up some reviews for the blog next week!, catch up on The Walking Dead, watch some crap documentary for an assignment for school, do some more work/blog stuff, yoga, and well maybe some reading (I still didn't finish my book!).
Are you attending Fitbloggin????
This week just got a whole lot better! Hope you have a beautiful and wonderful weekend! Stay warm 🙂
———————————————-
Stay connected: Facebook:
Strength and Sunshine
Twitter:
@RebeccaGF666
Instagram:
rebeccagf666
Pinterest:
RebeccaGF666
Bloglovin':
Strength and Sunshine