Hello guys! Well, I am happy this week is over. I have so much going on right now and for the rest of April, I feel like my mind is just running full speed on a treadmill. I don't think I will be able to relax until June 14th. Then the summer starts and I can take a breather for a few months. But until then, I have some major anxiety and stress to work through. (Hello yoga!). What is really stressing me out right now is Facebook college groups. I joined the class of 2018 group for each of the colleges I am accepted at. All the postings are either trivial teenager stuff, of people looking for roommates. Now mind you this is only maybe 50-60 of the same kids actually interacting and posting in the group out of the 1000-2000 in the groups, so these kids are not fair representations of the actual make-up of the class. But man. So far I see no prospects for a roommate! This is really stressing me out. I am very unique and so far no kid looks like a match for me. And I can guarantee you no one is a healthy-living blogger. Let alone yoga and fitness obsessed, gluten-free, soy-free, vegan, does not drink or smoke, is not a partyer, wakes up at the crack of dawn, does not enjoy listening to music or watching Netflix. And for some reason everyone in the DC schools are obsessed with their love for Chipotle? Weird.
Hopefully this will all fall in to place eventually, but right now...this is all I am stressing thinking about. And let's not even start with the roommate horror stories. And what if your roommate snores?! College...
Besides my college drama, here is my 13th link-up to FTSF (Finish The Sentence Friday)! FTSF is that you are given a sentence each week and you finish it however you want, long or short. This week's sentence was, "I never understood what the big deal was about..."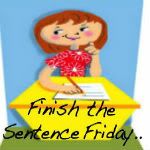 I never understood what the big deal was about celebrities. Why are people so obsessed with the lives of the rich and famous? Why do people read those boring magazines like People, OK!, Star? I have never been into that stuff. I don't have a favorite celeb, nor do I even know their names. Maybe it is because I really don't like watching TV, movies, or listening to popular music. But half of them shouldn't even be "famous" in the first place. Plus, why do people think certain celebs are so "hot", "sexy", or "good-looking"? George Cloony? Really? Ew is all I have to say. Jennifer Aniston is not hot guys, sorry for the news flash. Celebrities just exemplify the bad and false ideals that our society has. The only reason I think people follow them is to virtually feel like they have some sort of connection to that lifestyle. In reality those people are about 3% (less?) of society. There are so many more wonderful, "real-life" people you should admire and look up to. People who have strong values, moral compasses, and a positive lifestyle. (Okay, off my soapbox. I am not bashing every single celeb out there. They are real people to, and some are amazing people. I am just making a generalization!)
SS Posts from the week:
Monday: Power Monday #39 Live The Vibrant Life!
Tuesday: Zucchini Buckwheat Peanut Pancakes
Wednesday: Smokey Avocado Coated Chicken
Thursday: Review: Sarah Fit - Get Skinny Again! + Interview With Sarah Dussault
Blog Posts I loved this week:
+ What Does Being Brave Mean To You?
I loved this post! It comes at a perfect time, when I need to remember to go out there and be brave!
+ Blogging And Twitter: How To Grow Your Following Into The Thousands
Great tips for tweeters! 😉
Awesome round-up for bettering your blogging!
+ How Rigid Diets Threaten True Digestive Healing
Just more insight on why flexibility and balance is key.
+ Working Out And Eating Well Should Enhance Your Life, Not Dominate It
Rigid rules and routines will leave you miserable and that is not what you want.
+ 8 Easy Ways To Improve Your Digestion Naturally
Always looking tin improve my stomach and digestion!
That lovely little legume is just so versatile 🙂
+ Why We Got Fatter During The Fat-Free Foot Boom
Sad times and even sadder that people still believe it :/
+ Why Being Weird Is Actually Cool
Being weird is good. Embrace it!
+ 12 Tips For Running Through Allergy Season
I no longer have allergies, thanks to 5 years of allergy shots!
+ Patience
It takes time, it takes patience, but you can get there!
+ How I Lost 60 Pounds Without Dieting Or Eliminating Food Groups
If you are looking to lose weight or not, this is a wonderful read.
Happiness is an ever-evolving choice.
+ Exercise Is Meant To Be Enjoyed
Find what you love and keep at it!
+ 30 Affordable Date Night Ideas For When You're On A Tight Budget
These are so great and such fun ideas! (Now all I need is a date 😉 Haha!)
+ It's Not All Or Nothing
It is not about perfection. Do you best and love life!
I love freezing foods like my veggie burgers. I still have not done it with pancakes though...I need to get on that ASAP!
+ The Ultimate Quinoa Burger Recipe Roundup
Speaking of veggie burgers...
+ Not All Those Who Wander Are Lost
Take a leap of faith and follow your passion!
Have you ever lost your blogging voice? Have you even found it yet? I've been struggling with mine lately :/
Why isn't it awesome?! Such a beautiful yoga story 🙂
+ 5 Ways To Gain Free Blog Exposure
Great tips for getting your name and content out there!
+ The 10 Worst Prom Dresses Of 2014
I really don't want to even deal with this high school drama. The girls are already bragging about their $600 dresses. And I'm like, no. Should I even go to prom?
+ How To Find Me On Facebook
Facebook is out for bloggers. Try Google+ instead! I finally set mine up, but I don't utilize it the best I could.
+ Quick Tips For Better Photographs
Easy tips and explanations from a professional!
+ 16 Lessons I learned In My 20s
Great lessons to know at any stage of life!
+ Listen To Our Bodies, Nourish Them Well, And Embrace Every Inch
Just in case you forgot 😉 <3
+ Healthy Living Is Not Just A Habit
Exactly. I always say this. It is a lifestyle. Period. Not a diet, not a fad, but an everyday way of life! Emphasis on the word living 🙂
+ Blogging: 13 Things I Wish I'd Known Sooner
Bloggers...listen up!
+ 7 Tips For Yoga Balance Poses
I say it is all in the core and in your focus. Just calm the mind and breath into it.
Such a beautifully written post. Transitions can be difficult, in yoga and in life.
+ Why Keeping It Simple With Health And Fitness Will Change Your Life
Think about the future and the long term. Make being healthy a lifestyle, not a crazy short term goal.
I found this really interesting. You body can't tell the difference between high emotional stress and physical stress. That is probably why you feel so exhasued during those rough patches. Just something to think about.
Favorite Pins:
(Follow me on Pinterest – RebeccaGF666)
4 Ingredient Chickpea & Coconut Flatbread. Yum! Perfect for curries or soups!
Mango Curry Hummus Quinoa Bowl. Um, this is delicious!
Almond Butter Banana-Blueberry Tortilla. This would be a killer breakfast 😉
Oatmeal Chocolate Chip Cookie Pancakes. This would also be a killer breakfast, haha!
Sweet Orange Glazed Salmon. More reasons to love salmon. Flavor explosion!
Quinoa Salad with Salmon and Apples. I guess I am digging the pancake and salmon recipes this week 😉
Chia Seed Sandwich Thins. Who need traditional bread these days 😉
A few things I loved about my week or am grateful for:
+ So it is official. As of Wednesday when the financial aid info came out for GW...it is now a realistic choice of school for next year! I was so sick to my stomach all week until that email came out saying I could see my aid. O, the relief and joy I felt when I opened it! I am still now 100% on GW though. I am going to visit Wofford next week and see the campus for the first time. Then the next week I will be going back to DC (Yes! Hit me up DC blends, haha!) to visit GW again and American. By the end of April I will know....O this is so scary!
+ One word...60 degree weather! (okay, three words!)
So Tell Me:
Give me the college roommate horror stories. I want to hear them!
Did you go to your senior prom?
What is something you don't understand why it is such a big deal?
What are you going to do this weekend to relax and de-stress? I think I am going to do some new cooking/baking. I won't be able to in the coming weekends so I have to get it all in now as much as I can. That is the other thing! How will I cook and develop new recipes while living in a dorm next year! O the humanity :'(
Well I hope you have a lovely weekend that is not stressful. If it is, shot me an email (strengthandsunshine (at) gmail (dot) com)! We can chat about it together 🙂
———————————————-
Stay connected: Facebook:
Strength and Sunshine
Twitter:
@RebeccaGF666
Instagram:
rebeccagf666
Pinterest:
RebeccaGF666
Bloglovin':
Strength and Sunshine